Research Room
Visiting Gwent Archives means that you have access to a vast array of unique historical documents in our Research Room.  To help you get the best from your visit and to help us preserve them for future generations there are some simple procedures which we ask you to follow.
Remember that Gwent Archives Staff are there to help you - if in doubt or unsure, just ask.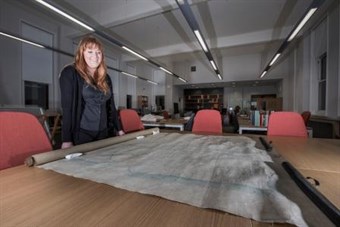 Coats and Bags
Please leave all coat and bags in the locker room.  No coins are needed to use our free lockers.    We ask that people bring as little as possible into the research room.  Please bring a pencil and notebook.  We also allow laptops.  
Becoming a Gwent Archives User
You will also need to sign up for an Archive Card in advance of your visit.  Your card will be issued during your visit, you'll just need to bring identification from the list.
Guidance
Please follow this link to view our Research Room Rules. This explains the do's and don'ts at Gwent Archives. 
Finding Documents
Knowing what to use can be difficult so staff will help you find what you need.  We have indexes and catalogues which you use to find the reference to documents.  Staff are there to help you find what you need and show you how to do this.
Copying Documents
We can copy most documents, for which a fee is charged.  To protect the documents this copying is carried out by trained staff, so will be more expensive than in a library.  However, for a small fee, you can use a digital camera (without flash) to take pictures of documents yourself.  Use of Handheld Scanners is prohibited. The use of further reprographic devices will be down to the discretion of staff
Using Documents
When using documents please be careful not to damage them.  Please:
Make sure your hands are clean and handle the documents as little as possible.
Only use pencils and do not bring pens into the Research room.
Avoid leaning on documents or putting them under you notepad.
Use weights and rests - staff will show you what to do.
And please don't lick your fingers when turning the page!